News Archive
First Hits Done! What's Next?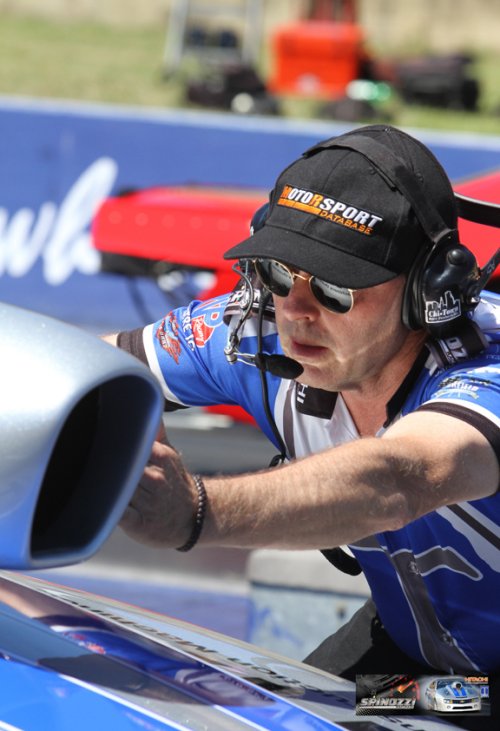 The dust has settled, things are returning to normality and the Spinozzi Doorslammer is now being prepared for its next test outing.

The team were extremely happy with all aspects and results from the recent testing of the new Chevelle at Sydney Dragway. Emilio found his feet very quickly (even if he swapped feet like a Pro-Stock driver on the first attempt). Despite this understandable small glitch, the guys calmly pushed the car back and he made the second attempt count with a great 60ft test launch.

Everyone got a taste of the different procedures and duties of what a blown car brings, and soon enough the team were towing out in preparation for their second ever Blown Doorslammer launch.

The car launched hard and straight, looking like it was away, before striking tyre shake around 100ft out and driving Emilio toward the centerline. His years of driving experience told him to get off it and straighten the car up, which he did extremely well.

"I was very impressed with how our first test day went, the whole team did an outstanding job and adapted very quickly. Ultimately, after endless hours of hard work it comes down to launching the car and letting it tell us what it wants." explained Emilio. "The second launch did exactly that. It has given the team enough information to go away and build from".

Michael Marriott, Spinozzi Racing's Crew Chief added "We appreciate it will be a steep learning curve. Emilio did an incredible job driving a total different race car."

All in all, the day was hailed a wonderful success with everyone gaining valuable experience, the car showing the early results of SCF's amazing workmanship and Michael Marriott's set-up expertise. With the engine happy and some valuable data secured, it was back to the Workshop after the second launch for some analysis, maintenance and adjustments before the team resume testing in mid-November.

Adamo, Emilio and the entire Spinozzi Racing Family would like to wish all racers competing in this weekend's 400 Thunder East Coast Nationals event in Sydney Australia, a safe and fast weekend.

Again the Spinozzi Racing team would like to thank their sponsors Speedmaster, Hitachi, Terra Civil, Western Filters, Soligo Concrete, Sloane built Trailers, Pasta Italia, Optimum Fire, Al's Race Glides, Smithfield Diff & Gearbox, Race Teknix, VP Racing Fuels, Corfield Media Solutions, Planned Signs, Kemps Creek Mitre 10, Leanders Clutch, Torco Oils, LJ Hooker Commercial Macarthur, Nicsons Concrete, Alky Pro, Speedflow and Australian Drag Racing Promotions (ADRP) for their continued support of the team.